Our predicted and expected result will be a distribution UTM map for each species and/or subspecies in 10x10 km UTM meshes (see below the preliminary data for the Marsh Frog,
from database of "Milvus Group") - thus in lower scale than in the European Atlas, where it is in 50x50 km UTM meshes. The last goal beside the online and/or printed Atlas, is also to upgrade the European Atlas database.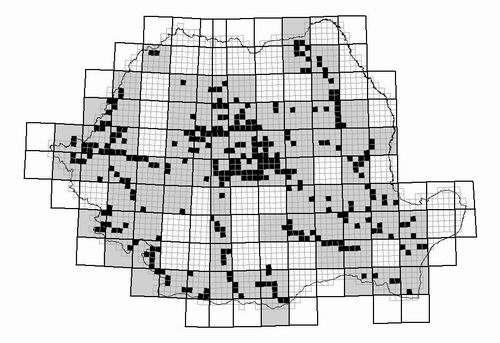 More tools expected to be developed here will be:
1. a dichotomous key for amphibian larvae;
2. a dichotomous key for amphibian eggs;
3. a dichotomous key for frog songs;
4. a dichotomous key for juveniles and subadult reptiles;
5. the visualKeys and the final species pages.
If you are interested in the project and want to be part of it, o
pen the project details, click on the tab called "Project members" and join (you must be inside the myBiOSis environment!).
Among the of participating in a project within
mybiosis.info
are:
- feedback/quality control on your observations and IDs.
- voluntary participation of other members with observation and expertise.
- free use of infrastructure and data management; you keep your data organized; your project does not need to spend money and time in building yet another database and later pay maintenance fees; this infrastructure is a result of a huge effort over years and dedicated taxonomic & biodiversity IT expertise.
- use integrated mobile tools for data acquisition.
- make your data visible to all members of your project; keep data in one place, but have it world-wide accessible to a selection of people or to public.
- export your data in output formats like Excel.
- use available tools for building project pages and report the progress using deep integration between the database and publication tools.
- build a community aware of your projects; get higher ranking and visibility.
- hire us in building specific tools or functions withing myBiOSis; instead of building again the whole system, we can enhance the existing one advancing it with new applications" [for more information, see:
https://kladia.info/docs/index.php?title=projects
]
For more informations about the project, contact me (tibor.sos"at"gmail.com)!
This project is initiated by Sos Tibor, member of Amphibian and Reptile Conservation WorkGroup, Association for Bird and Nature Protection "Milvus Group" (
http://www.milvus.ro
), Târgu Mureş, and member of Romanian Herpetological Society, Cluj-Napoca.