mybiOSis
The database of mybiosis.info is populated and queried via an 100% online environment called mybiOSis toolkit. The toolkit User Interface (UI) philosophy is to keep participants in a familiar area by emulating the feeling of a desktop environment. Although the windows/applications loaded in this environment follow general rules in terms of organization, mybiOSis toolkit is nothing like a regular website: it does not have a rigid structure/template that is seen in most portals/webpages. We choose this type of interface mainly because:
it is a familiar interface: most of us use primarily a desktop/laptop OS like (Windows, Mac or Linux) and therefore most of UI features do not have to be explained extensively (windows, menus, task bars, desktop icon entities etc.).
it is flexible: this organization allows its members to shape/customize user environment so that it really becomes a familiar place (some customization functions are already provided, other will come). mybiOSis toolkit virtually aims for creation of an continuously evolving environment which shapes with the interest of person that uses it.
it is scalable: this type of UI is already proved extensible enough to incorporate an unlimited number of applications & functions.
it is integrative: it may accommodate various projects and types of users making it a perfect choice for reusing same resources in various context (no duplication of resources and no additional maintenance needed).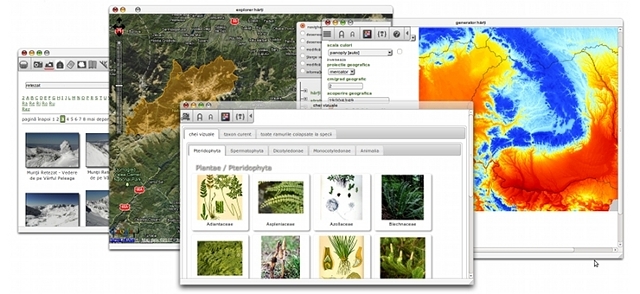 Although the software development initially focused primarily on recording occurrence observations & phenotypic information of taxa from members and scientific literature digitization, with time, other applications were developed for aiding identification of taxa (ID keys : dichotomous keys, visual keys etc.), producing maps, managing projects data, managing scientific literature, outreach of projects to classic web, mobile data collection etc. With
UBA project
the water quality assessment prototype tools were added. The array of applications may increase without restrictions with addition of new projects.
Particular for mybiOSis environment are its tools for interaction among members: activity by the minute, forum, Facebook integration like login/digital object dissemination etc. These both assure cohesion among participants activities as well as a quality control of deposited digital objects. In a sense, mybiOSis toolkit interface has a structure that emulates portals for social interactions, but it integrates them within the realm of biodiversity and taxonomy tasks. This enhances the productivity of the project in general or of separate tasks in particular.
kladOS
The current version of mybiOSis toolkit is called kladOS. For this version the software library that renders the desktop and its windows was entirely written by us so that we have more control on the behavior of its UI components. Some distinctive features of the new version are:
system memorizes applications left open and reloads them at revisiting the system.
system memorizes the preferences of a user for size and position of windows of an application; these two features allow a user to arrange applications on "desktop" and keep them in this setting indefinitely without need of additional browsing or resizing and drag& drop operations.
Project Views (PVs) feature was developed so that kladOS may take many shapes suiting the individuality needs of various projects hosted by mybiosis.info. A PV may have its own desktop background, banner and title making mybiosis.info environment a very good choice for projects run by other institutions/entities.
| | |
| --- | --- |
| | |
| classic NDOR view | UBA view |
There is even possibile to login directly into distinct PVs without entering in the classic interface of the Nature Digital Object Repository.

Selections of applications with certain focus can be defined for each of the PVs. However, the system still allows users of various PVs to customize their interface by dragging application icons from the Application directory into the PV main menu.
---
Contact

NDOR & myBiOSis web applications Copyright Adorian Ardelean - All Rights Reserved © 2003-2015
Images and other digital objects Copyright The Authors, legal notes are visible in image details pages
Produced & tested for FireFox, Google Chrome & Safari
No Google ads & no gUrchins here!
Revised Daily