Syngraph online
[never_ending]

Syngraph is a relational database application that that allows linkage of any published name to any other using a lexicon of modifiers that are conventional in taxonomy, anchoring each use to its bibliographic reference.
Through the use of color and other symbology, the synonymies list generated by the report function of Syngraph provides in graphic format more information than is provided in conventional lists about the relation of the name to other members of the list and about confidence in that usage. The electronic application allows access to all published uses of a name, which print lists commonly do not.
The tracking and display of names in Syngraph has two functions:
The graphical synonym lists generated by Syngraph are composed of five blocks of information (see image below).
A synonym relations
B list of names rendered precisely as given in references
C problems (non, pro parte)
D adjectives
E authorship and reference information; the verbatim author (the left-hand portion) is stored as part of the reference because it varies and may not even be cited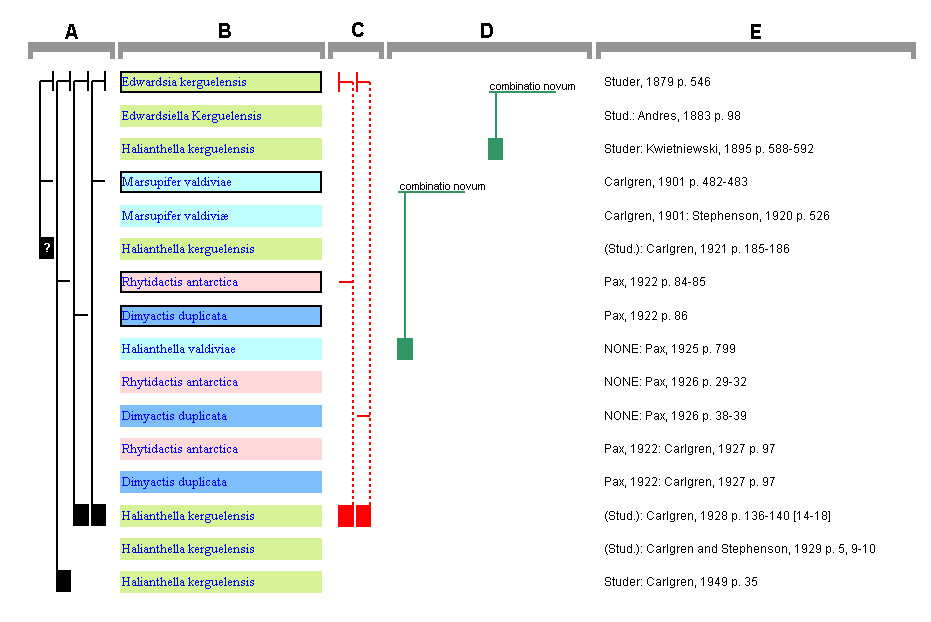 Visit project inside myBiOSis
Members of this project
List of projects
Anthozoa TDK
Arii protejate Timiş
Atlas of Amphibians and Reptiles in Romania
Birds of Romania
Carabidae of Romania
EcoToolkit
Eftimie Murgu
Flora Banatului
Flora Dobrogei
Flora of Romania
Fungi of Romania
GenGeo
Habitat mapping & GIS
Habitat, restoration and conservation
Hardy orchids hybrids
HELCOM
Heteroptera Romaniae
Impacts on biodiversity in the Baltic Sea
Insects of Dobrogea
Invasive species in Romania
Jasione heldreichii
Lepidoptera of Romania
Lichens
Molluscs of Romania
Muntii Metaliferi - Cheile Cibului
Muntii Metaliferi - Cheile Glodului
Muntii Metaliferi - Cheile Măzii
Muntii Metaliferi - Cheile Ribicioarei şi Uibăreştilor
Muntii Metaliferi - Măgurile Săcărâmbului
Muntii Metaliferi - ROSCI0029 Cheile Glodului, Cibului și Măzii
Muntii Metaliferi - ROSCI0110 Măgurile Băiței
Muntii Metaliferi - ROSCI0373 Râul Mureș între Brănișca și Ilia
Muntii Metaliferi - ROSPA0132
natureRecorder
New flora in Europe
Noi specii pentru Parcul Natural Portile de Fier
Odonata of Romania
Orchid population & genetics
Orchids conservation
Orchids of Europe
Orchids of Romania
Orchids of Stanisoarei Mountains (Bukovina)
Orthoptera of Romania
OSPAR_ICG-C
Parcul National Semenic Cheile-Carasului
Rare plants from Romania
Rezervatia naturala Fata Virului, Mehedinti
Romanian FaunaEuropaea Focal Point
ROSCI 0031, ROSPA 0020 Cheile Nerei - Beuşniţa
ROSCI0045 Coridorul Jiului
ROSCI0110 Rezervația Măgurile Băiței
ROSCI0115, ROSPA0078 Mlastina Satchinez
ROSCI0233 Someşul Rece SCI
ROSCI0287 Comlosu Mare, Comlosu Mic
ROSCI0338 Padurea Paniova
ROSCI0345 Pajiștea Cenad - Saravale
Sacueni, Bihor - habitat pajiste schimbare conducta
Syngraph online
UBA UFOPLAN LITTER 371325220
UBA UFOPLAN MSRL 3711251216
Vegetal comunities from Somesu Rece
Wetland, habitat, species
Wild orchid diversity within National Park Cheile Nerei-Beusnita habitats
XP20170224
---
Contact

NDOR & myBiOSis web applications Copyright Adorian Ardelean - All Rights Reserved © 2003-2015
Images and other digital objects Copyright The Authors, legal notes are visible in image details pages
Produced & tested for FireFox, Google Chrome & Safari
No Google ads & no gUrchins here!
Revised Daily