Visual Keys
mybiosis.info includes a considerable number of ilustrated species from Flora and Fauna of Romania. However, this resource is not limited to these geographical boundaries. In the near future we expect to include keys for organisms that are exotic not only to this country, but to Europe as well.
Visual keys from mybiosis.info aid facile identification of plants, animals and mushrooms. They may be used by professionals, biologists and amateur naturalists alike.
The idea behind visual keys from mybiosis.info is very simple: each species should be illustrated properly through one or multiple images. These images should render some characteristic morphological traits that are used for identification of organisms. A set of images may be associated with a diagnose, in other words a succint description of important characters used in distinguishing a species from others. Other types of information may be included as well: nomenclature, common names, literature, distribution maps, etc. When an organism is part of another type of key (see below the dichotomous keys), the information from that key is integrated within the visual key organism page.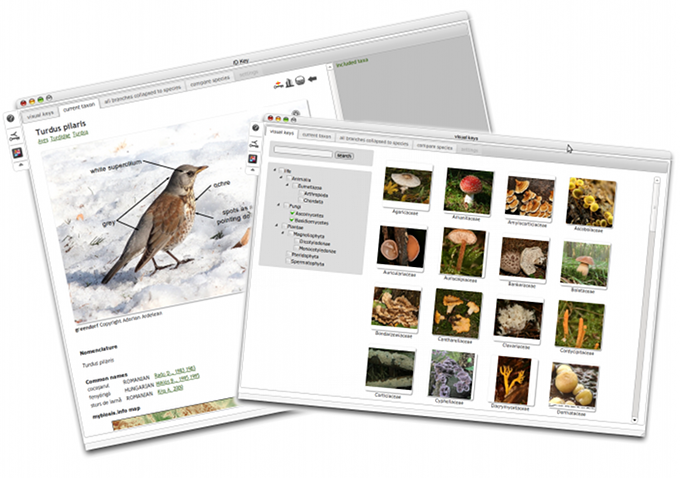 These visual keys are in continuous development - almost daily new species are added. You may participate in building this system of keys. Specific tools for preparing visual keys are provided within mybiOSis interface. The easiest way to participate in this process, is to include in database images (observations) of plants, animals or fungi from your geographic area or of your group of interest. These images serve as a foundation on top of which the visual keys are erected. If you are a specialist in a taxonomic group you may request direct access to the tools for building visual keys.
Below is presented the list of existing visual keys. Click on a thumnail to open the key. Authentification is required, but this process is a matter of seconds if you have a Facebook account. The list below is scrollable.
---
Contact

NDOR & myBiOSis web applications Copyright Adorian Ardelean - All Rights Reserved © 2003-2015
Images and other digital objects Copyright The Authors, legal notes are visible in image details pages
Produced & tested for FireFox, Google Chrome & Safari
No Google ads & no gUrchins here!
Revised Daily